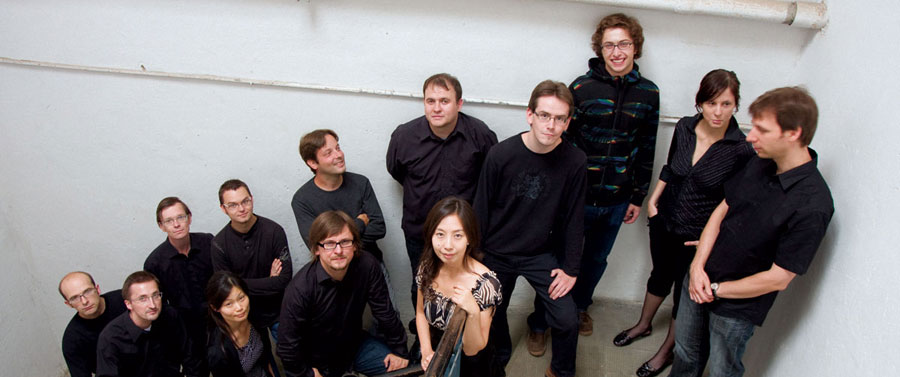 Prague Modern, recently hailed by the music journalists as "the best Czech ensemble for new music" is an ensemble of flexible size comprised by the cream of young Czech instrumentalists.
Prague Modern is unique on the concert podiums/scene here – the ensemble grants both the youthful enthusiasm and the experienced attitude whenever it comes to performing contemporary music via solo recitals as well as chamber music concerts or even smaller orchestra pieces.
Prague Modern has already performed at prestigious new music festivals such as Contempuls and Prague Premieres, its members further played at the Czech contemporary concert series Krása dneška/Le bel aujourd'hui and Přítomnost/Presence (both in Prague) or at festivals such as Ostrava Days of New Music, New Music Exposition Brno, NewMusicMarathon, Třídení, Forfest Kroměříž etc. Abroad they were guests at Les Musiques Marseilles, YOU:rope Together Essen, Dartington Summer Festival, Evenings of New Music Bratislava, Alless im Fluss Passau, (New) Music At Home Bratislava/Šamorín etc. The repertoire of PRAGUE MODERN equally pays attention to the works of world known avantgarde composers as well as to the music of Czech contemporary composers whose works PM regularly commissions (Srnka, Nejtek, Stochl, Chaloupka a.o.). The hear-felt aim of PM is to present the contemporary Czech composers abroad.
Prague Modern is also open to various in-between-the art-fields and multimedia cooperations with such acclaimed artists as Jan Švankmajer (film), Kateřina Vincourová (visual art), actress Fanny Ardant (CZ premiere of Cassandre, a spoken opera by Michael Jarrell) and many others.
Prague Modern is proud and grateful for the great past music-making together with a.o. Christophe Desjardins, Roland Kluttig, Martha Cluver, Jacqueline Janssen, Stephan Winkler, Jan Talich, Jiří Bárta, Petr Jiříkovský, Eva Sušková and many others
Ensemble Prague Modern was established by Michel Swierczewski in 2008 on the ground of the Prague Philharmonia. Since 2009 PM functions as a NGO with Michel Swierczewski as the Chief Conductor and David Danel as Artistic Leader. PRAGUE MODERN exclusively cooperates with KAIROS, atelier culturell.